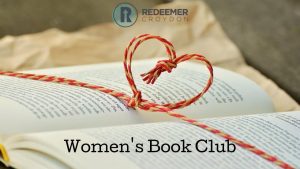 Cat Allison launched our Women's Book Club in February 2017!
Here are some of the books we have read so far:
The Cross Centered Life by C.J. Mahaney
Hope When it Hurts by Christine Wetherell & Sarah Walton
Holiness by J.C. Ryle
*Current book*

Discover that when we daily turn to Christ, we will experience the clear conscience that comes with knowing that Jesus' blood covers all our wrong.
The club has a WhatsApp group. For more information contact Caroline@redeemercroydon.org